1/15/2021
OPTIMISM FOR THE YEAR AHEAD
We are thrilled to have kicked off the new year at 31st Union! We all had a very welcomed break over the holidays to center ourselves, rest, and reflect on our journey as a studio in 2020. One universal theme across all our developers was the gratitude felt for the connections, both personal and professional, that powered us through the unprecedented times of last year. Reconnecting in the new year as a team and looking forward with optimism for the year ahead has filled our sails. It is also remarkable to think that we're just days away from celebrating our 2-year anniversary in February.  These last two years have absolutely flown by, and at the same time, it seems like we've experienced a lifetime of events together already. That saying "The days are long, but the years are short" seems particularly appropriate for the last half of our studio's life. 
Year three at 31st Union is shaping up to be our most exciting yet. We are optimistic because our culture—founded on Trust—has thrived as we've collaborated remotely for almost an entire year. Our team has nearly doubled in size during COVID, and our development team continues to expand into other locations across the globe. Our partnership with 2K has been incredible, with the autonomy to pursue our passion and the invaluable support of a world class publishing organization to help support us through a trying year. Our new game has grown from an idea to something we're incredibly proud of. There are tons of opportunities to join and help us on this journey still, and we look forward to welcoming new members to our team who will contribute to both our studio culture and our game vision. 
DEVELOPER PROFILE – SAHITHI PODILA
We believe in a "Welcome All" culture where diversity, inclusion, equity, decency and respect for all attracts exceptional talent. One of our newest team members, engineer Sahithi Podila, exemplifies a developer who is an amazing addition to our culture and vision. Sahithi grew up in southern India. Her hometown is Guntur, which is in Andhra Pradesh on the Bay of Bengal side of India. We are excited about Sahithi's journey with us at 31st Union! Welcome, Sahithi!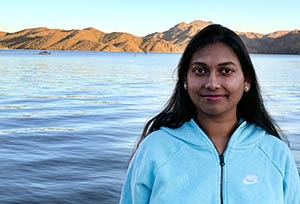 What inspired you to go into video game development?
I am passionate about creativity, problem solving, and working in an environment filled with fun and entertainment. I believe video game development brings all of these things together. In game dev you can often see things you've created come to life instantly. It is very exciting to write software that rules a fantasy world and I am proud to contribute to a form of entertainment that people enjoy every day.
Did you begin your journey in Engineering or did you enter through another discipline? I pursued my master's in Computer Science Engineering. However, my fascination with animation pushed me to complete a diploma in Multimedia. I also worked as a 3D Animator for a brief period of time. My quest to learn more about graphics led me to pursue a Ph.D. in Computer Science with a specialization in Graphics. I am thrilled to work in game development where I can utilize all my academic skills.
What surprised you about video game development? A playful learning environment and insight into diverse teams have grown my abilities to expand and think more broadly. There are cross-functional dependencies among diversified teams in everyday work. Every team's work has a significant impact on the others. I used to think that games were developed with already existing tools but realized there is multi-fold complexity involved in developing an excellent game.
How have video games influenced your life? I began playing video games at a young age and many of my fondest memories involve connecting with my school friends through games. Playing video games improved our strategies and brought out our competitive spirits.
Are there any current trends in gaming that you find exciting or inspiring? Game developers are starting to make women more prominent in the worlds they create. Seeing more women enter the gaming world is very exciting! And 31st Union is dedicated to empowering diversity and inclusivity in the workplace. I am also excited about Virtual Reality and seeing a new generation of games bringing players greater immersion and the ability to influence the game environment.
What is unique about 31st Union compared to the broader industry? There is a sense of belongingness at 31st Union and each individual voice is heard. The cultural values of the company launched my first job in game development and I've felt welcomed every step of the way. The team members here are fun-loving, collaborative, and always accommodating. I am very fortunate to work with such experienced and talented people.
What is your favorite video game? What do you love about it? My favorite video game is Prince of Persia. I love discovering tricks and escape strategies, and the time-based dungeons make it really exciting.
Tell us something about yourself that many people do not know about you. I try to unlock my creativity and artistic skills through various hobbies. I am interested in film making and am always writing down my ideas. I believe it is never too late to start learning and practicing new things. I am learning "Bharatanatyam," a traditional form of dance in India that incorporates different skills apart from steps and body awareness. Bharatanatyam has actually helped me improve my focus and time management!
We are HIRING!
We are seeking passionate and talented collaborators to join our team! If you'd like to hear more about our studio, the team, and the opportunity to help shape our culture and creative vision, please connect with us at https://www.linkedin.com/company/31st-union-official