9/29/2021
This month our team is focused on LIVE YOUR DREAMS, our core value of personal growth and evolution: "We are driven with a passion to reach our fullest potential. Personal growth is an enduring priority for all of us."
At 31st Union, living our dreams by courageously challenging ourselves to evolve how we develop both our game and our studio culture takes time, psychological safety and a deep commitment to figuring out how to walk the talk. At 31st Union, we spend quality time every month focusing on the bigger questions together, and addressing ways we can evolve our processes, structures, and mindsets so a more comprehensive version of excellence may emerge.
As we look to close out 2021, which has been another year of incredible change and opportunity, we are excited about the next step in 31st Union's growth as a studio including our global expansion in Valencia, Spain. 
DEVELOPER PROFILE – PABLO PLA GUTIÉRREZ
As our first engineer hire in Spain, Pablo Pla Gutiérrez is a multi-faceted gem and foundational role model for the values that 31st Union represents. Pablo's open spirit and desire to contribute to positive culture as well as the game itself is part of his personal (and palpable) mission. We appreciate Pablo's leadership and presence as we rally our global team together under one unified banner.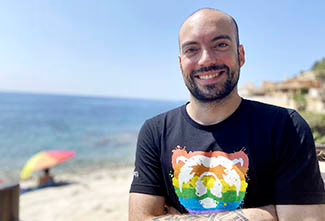 What inspired you to go into video game development?
When I was little, I knew I wanted to work in video games. I knew back then that I liked playing them, but the only job I could think of was to become a video game tester. Eventually, when I grew up, I thought that making games would be even cooler than playing them, so that's when I was certain that I wanted to be a game developer. The fact that I also like math, computers and science in general, made me go the video game engineer route.
What surprised you about video game development?
How collaborative it is! You don't just work closely with your own department, but with all of them. Many aspects of a video game need the work of people from different departments: engineers, designers, animators, VFX artists, sound designers, and many more…all working together on the same feature. For me this is what makes game development so fun. Not only do I learn a lot from disciplines other than mine, but I also get to work with so many different talented and amazing individuals.
How have video games influenced your life?
They've been a real personal foundation for most of my life. I discovered a job that I love thanks to video games. I've met most of my best friends through games (by playing online and by making them). On top of that, during the pandemic and especially during the lockdown, video games saved me. I could hang out with my friends and have fun from my desk every day. Oh! And I have a tattoo of one of my favorite games, so yeah, video games are a pretty big deal for me.
Are there any current trends in gaming that you find exciting or inspiring?
Not sure if I would consider it a trend, but I think indie games are having a golden age right now. It is very difficult to be surprised by AAA games nowadays, so indie games are usually the ones that make me go: "Wow, that's brilliant." The amount of genius ideas, innovative visuals, and exciting and fun mechanics in today's games is definitely inspiring.
What is unique about 31st Union compared to the broader industry?
For me what makes 31st Union different is that we have a culture that is genuine and real. What I mean by this is that our values are not just a bunch of words on paper. These values are applied on a daily basis, by everyone, for everything. And because of this, our culture allows everyone in the studio to be the best version of themselves.
Which of our Studio Values most resonates with you?
Chase the Horizon (Innovation) without a doubt. Everyone in the studio has a real voice in both the development of the game, and the studio management. This empowers everyone to bring amazing ideas to the table that are constantly making the studio and the game better. When people feel safe to speak up, safe to try new things, and safe to fail if necessary, that is when the best possible work happens.
What is your favorite video game? What do you love about it?
The tattoo I mentioned before is the wolf medallion from Witcher 3, so obviously that's one. However, I can't just pick that one. Red Dead Redemption 2, Persona 5 and Hades are also high up in my list of favorites. All these games have a brilliantly constructed world and a charismatic and lovable (or hateable) set of characters that makes you want to be part of the story for hours and hours.
Tell us something about yourself that many people do not know about you.
I really enjoy dancing. I've never gone to dancing classes, but by watching one of my best friends do it, and practicing on my own by watching videos, I've gotten kind of good at it. Sadly, with the pandemic that had to stop for a while, but I can't wait to go to nightclubs and practice some moves again.
We are HIRING!
We are seeking passionate and talented collaborators to join our team! If you'd like to hear more about our studio, the team, and the opportunity to help shape our culture and creative vision, please connect with us at https://www.linkedin.com/company/31st-union-official