The season of gratitude is upon us, and it is time to appreciate the abundance of good that came out of this uniquely challenging year. At 31st Union, our team learned how to grow, thrive, connect, and innovate collaboratively despite working 100% remotely for the first time in our industry's history. As we look forward to a season of hope in the new year, we are deeply thankful for our 31st Union and 2K family, and all the support we received throughout 2020. We wish health and happiness to our families, friends and colleagues during this Thanksgiving holiday!


DEVELOPER PROFILE – DARYL NELSON
31st Union believes deeply that an enduring priority for each of us here is to Live Our Dreams. Daryl Nelson joined to do just that in his new role as the studio's first Technical Producer. Transitioning from his long-term role as an engineer to living his dream as Producer at 31st Union, Daryl's passion to reach his fullest potential is a shining example of our studio culture in action, and we are excited to have him share his journey with you.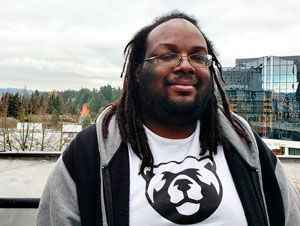 What inspired you to go into video game development?
When I was in high school, my childhood friends and I played many games together. We were inspired to make "the next best game since Final Fantasy VII". From there, my path was set: Go to college to learn how to code so someday I could make games of the caliber that inspired me!
How have video games influenced your life?
I've been a diehard gamer since my childhood, and it has quite literally steered my career choices over the past 9 years. I appreciate the ability of games to unite people for a joyful cause, and to tell a compelling story. I truly believe that games have the power to change the world for good, and I'm happy to spend every day working towards that dream!
How did you begin your journey in game development?
Until joining 31st Union, I was a software engineer! Over the course of my career, I've worked at various studios building mobile games, cloud game streaming services, websites and account management services. I always want to stay close to tech, but figured it was time to level myself up to more of a communication/management-centric role.
Describe your experience and what you enjoy about your current role.
From the day I officially joined the team, it's been a nonstop whirlwind of excitement! I enjoy the fact that I can interact with key members all across the studio to make sure their technical needs are heard. Software development is filled with unforeseen hurdles, so I'm incredibly excited to leverage skills I've learned during my time as and engineer to now help solve each new challenge in the best way possible.
What surprised you about the role of Production in game development?
I had always heard that game development was stressful, but I never really appreciated how many moving parts played into the mix. Thankfully, the chance to work with industry veterans and talented professionals has allowed me to grow immensely during my time here. It's fascinating how every team coordinates fluidly to get the job done!
What is unique about 31st Union compared to the broader industry?
The level of camaraderie and trust that is placed on everyone in the studio is incredible! 31st Union emphasizes a culture of building a healthy team first as the cornerstone to building a fantastic game, and it shows in how often the executive team checks in on the mental health of all the employees. Seeing the wellbeing of the studio being held to the same level of importance as developing a game is definitely hard to find in this industry. I'm happy to say that 31st is one of the best at achieving this goal!
Which of the 31U values resonates with you the most at this time in your life and why?
Without a doubt, it's Live Your Dreams. I've dreamed of working on a game that will inspire the world to be better and 31st has given me the opportunity to chase that vision. When I wake up in the morning to get ready for work, I often find myself thinking "Wow, I can't believe I finally made it!"
What is your favorite video game?
This is a VERY tough decision for me, but by a hair I'll say that my favorite video game is the Kingdom Hearts series! Kingdom Hearts tells a fantastic story about an ordinary boy who grows to do extraordinary things. I resonate with the notion that we all have the potential to be great, as long as we have the humility to lean on our loved ones, even in the darkest of days. It's a series filled with hope, and it's something I think the world sorely needs!
Tell us something about yourself that many people do not know about you.
I was born in Jamaica and raised (in the US) in a Jamaican household. This makes me an expert on Jamaican cuisine and on identifying fake accents. My family also has ties to Bob Marley's family via my aunt who sang the Arthur theme song on PBS!
How would you like to see the video game industry do even better for developers and gamers?
We need to appeal to aspiring game developers as early as possible and outreach to people who have not yet had ideal circumstances to break into the industry. We also need to realize that people who come in with less experience as a result of their initial lack of opportunities can still learn how to do great work. We need to craft games that appeal to players of every different walk of life. Let's make games with characters and stories that will appeal to people who have never seen their demographic in the forefront. Let's inspire them to grow into the larger-than-life characters they play in their games! The future of gaming will be defined by the people that follow us.
We are HIRING!
We are seeking passionate and talented collaborators to join our team! If you'd like to hear more about our studio, the team, and the opportunity to help shape our culture and creative vision, please connect with us at https://www.linkedin.com/company/31st-union-official
Learn about working at 31st Union. Join LinkedIn today for free. See who you know at 31st Union, leverage your professional network, and get hired.

www.linkedin.com