5/7/2021
DEVELOPER PROFILE – ARIEL TAN
We've spent the past month focusing on LIVE YOUR DREAMS, our core value of personal growth and evolution – "We are driven with a passion to reach our fullest potential. Personal growth is an enduring priority for all of us." This value is critical in fostering an environment where we thrive and create whole excellence. This month, we are excited to devote our profile to a developer who has been a shining example of living her dream - Ariel Tan, Associate Engineer at 31U, who joined us as an intern and is now a key member of our tech team!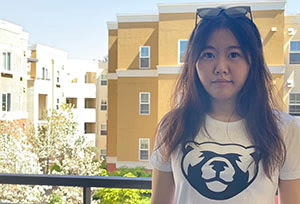 What inspired you to go into video game development?
When I was in high school back in China, I often played League of Legends with my friends. When we all went to different colleges in different countries, we met online every Friday night to play the game and talk about our lives. For me, those moments were the most relaxing of the whole week. I felt the magic of gaming and how it brings people closer together and strengthens connections.
What surprised you about video game development?
One thing that surprised me is how challenging it can be to bring technology and creativity together. I was also surprised to see how passionate developers are about their products and how much people believe in the value of the game they are making. I see passion every day from my teammates at 31st Union.
How have video games influenced your life?
Video games make me happy and have always been an inspiration for me. League of Legends taught me that it is the small things that lead to big change and that great teamwork makes "one plus one bigger than two." The Legend of Zelda: Breath of the Wild makes me appreciate the beauty of nature and endless possibilities. The Sims gave me a chance to chase the lives I am curious about (even being a dentist). Games inspire my creativity!
What do you remember most from your Internship?
I remember on my first day at 31st Union, my mentor took me to lunch. He asked me what's the most important thing for me to feel fulfilled in my career. I said "a good game and great design." He shared his perspective from years in the industry that the most important thing is the people you work with. Beyond the technical skills I learned during my internship, I was most influenced by the core values and people like my mentors and my manager. Their positive attitude at work and their passion for game development really resonated with me.
Since you joined 31st Union, a lot has happened across the world.  How has it been for you?
I have been living in the United States for seven years. When people knew I came from China, they showed great interest in Asian culture. However, when COVID started, people got scared. Before COVID-19, I had never experienced racism. Recently, I heard someone shout on the other side of the street to me "go back to your own country." I was shocked, I would never have imagined something like this in the past.
The recent hate crimes made me feel heartbroken, fearful and angry. But I did not give up on my faith and I know that the majority out there are good people. I tried to act strong by participating in the protest and raising awareness. When I saw our Studio Head send out an email saying "To our Asian family here at 31U, we are one. We are together with you.", my colleague commented "We stand together," and my Director of Culture reached out to check if I was okay, I was so touched and knew that I was never alone. I feel lucky to work with this group of people who truly care about each other and share the same values. And I believe we apply our values to our game development too.
Tell us something about yourself that many people do not know about you.
My personal journey to the United States: I came to the US in 2014 after I graduated from high school in China. My mother is an accountant and my father is a businessman, but the person I most admired growing up was my grandfather. He has been my guide and inspiration. He was an engineering lead back in the day and also the first person from my family who came to the US. He told me so many stories about the US when I was young. He was fascinated by the advanced technology and the disabled-friendly public infrastructure. Because I was greatly influenced by my grandfather, I decided to study in the US.
We are HIRING!
We are seeking passionate and talented collaborators to join our team! If you'd like to hear more about our studio, the team, and the opportunity to help shape our culture and creative vision, please connect with us at https://www.linkedin.com/company/31st-union-official