8/10/2021
As a gaming community, addressing challenges is not optional; if it affects one, it affects all. At 31st Union, we deeply value and require every member of the studio to be involved in shepherding a better community. Creating an environment of psychological, physical and emotional safety with zero tolerance for misconduct is critical to nurturing a culture where everyone can do excellent work and be their best selves. We are committed to a culture of learning and unlearning through facilitating candid conversations, hosting workshops, and consulting cultural advisors to expand our ways of thinking and challenging our biases. Approaching industry conflicts with an honest desire for change and growth is critical to our company culture now and for a better future for all developers.
DEVELOPER PROFILE – AMANDA TIMM
A cornerstone to our commitment to building an environment based on trust, safety and representation is Amanda Timm. Amanda's passion for diversifying STEM representation in underrepresented groups has made an incredible impact on helping 31st Union ensure that our actions and integrity match our values. We are grateful to have Amanda as a developer on our team and are thrilled to introduce her in this edition of our studio blog.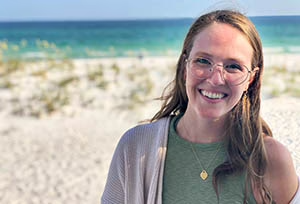 What inspired you to go into video game development?
I have a research background in social psychology, specifically focused on an intersectional approach to understanding barriers for women and ethnic minorities in science, technology, engineering, and math (i.e., STEM) fields. After grad school I went into the tech industry to try to diversify hiring pipelines and increase inclusion and belonging for underrepresented groups. While scrolling LinkedIn, I found 31st Union and really admired the company's values. So, I decided to apply.
I had heard stories about toxicity in the industry and recent events continue to highlight how exclusive it can be to many. It was a welcomed surprise to learn about 31st Union's efforts to create an environment of psychological safety for all groups. My first interviews at 31st were with Michael Condrey and Brooke Grabrian and I heard directly from leadership about their goals to change the games industry into a joyful and inclusive space for diverse voices. These conversations made me realize this was a unique opportunity to apply what I studied and make an impact in this industry. I jumped at the opportunity to be part of it.
What surprised you about video game development?
Video game development is storytelling. Given my very limited exposure to games, I was surprised to learn that game developers are storytellers and that the development process can be both a creative and collaborative one.
Are there any current trends in gaming that you find exciting or inspiring?
I'm really excited to see more diverse stories being told in games. I like that more and more studios are actively trying to share different perspectives and expose gamers to experiences that are unlike what they may have seen or played in the past. This is a cornerstone of our approach at 31st Union and I'm excited to be working at a studio that is challenging mindsets to help broaden our empathy towards different groups and help us learn more too!
What is unique about 31st Union compared to the broader industry?
Our studio believes that "everyone is a developer" in every sense of the phrase. Truly, everyone can provide feedback and help shape the direction of the game, which I hear is very uncommon in the broader industry. Regardless of your position, your level, or your role, 31st Union believes you have a responsibility to help make our game better because good ideas can come from anyone. Even during my first week at 31st Union, I was asked to pitch ideas for our game.
Because this is my first role in gaming, I was honestly worried at first about saying the wrong thing and giving feedback that was unhelpful. But this is genuinely the kindest team that takes the greatest care in answering questions and making sure no one feels out of place. Everyone is dedicated to growth and learning, whether that is gaining personal knowledge or helping someone else understand. Not only have I learned so much during the last year, but also, I have been asked to participate in several feedback sessions from allies of our 31U-Women affinity group on how female characters are represented in our game.
Which of our Studio Values most resonates with you?
The Studio Values that most resonate with me are Chase the Horizon (Innovation) and Welcome All (Representation). I really enjoy finding creative ways to streamline process and improve experiences for the candidates I work with, the hiring managers I support, and my team in general. It's a huge win to feel like I'm helping make a potentially stressful experience (from either perspective) easier and more enjoyable.
Representation is another value that is incredibly important to me. One of my favorite aspects of my role is that I'm able to learn another person's story and what is important to them. I really enjoy hearing new perspectives and finding ways to challenge societal beliefs of who game developers are and what they look like. Talent can come from anywhere and I love advocating to make sure everyone's voice is heard.
How could the video game industry create a more inclusive environment for developers?
First, I think there needs to be accountability and words need to match behaviors. Second, creating an ever-evolving culture with safety (psychological, emotional, and physical) for all groups at its core will support an inclusive work environment for developers. When people feel like they are safe to show up as their most authentic selves without fear of judgment or repercussions, that is when the video game industry will produce its best work.
What is your favorite video game? What do you love about it?
As a child, Pokémon Yellow on Gameboy Color was my all-time favorite! Today I actually spend a lot of time watching other people stream games and I watch a lot of playthroughs on YouTube. My favorite ones to watch are narrative-based choice games like Until Dawn or Oxenfree.
Tell us something about yourself that many people do not know about you.
I absolutely love horror movies and all things spooky. Most people are really surprised when I tell them that I've seen hundreds of horror movies and have participated in horror movie trivia. My house is decorated for Halloween in September (okay… late August. If I'm being honest with myself…) and I carve at least 3 pumpkins every October.
We are HIRING!
We are seeking passionate and talented collaborators to join our team! If you'd like to hear more about our studio, the team, and the opportunity to help shape our culture and creative vision, please connect with us at https://www.linkedin.com/company/31st-union-official