THE BEGINNING OF A NEW ERA
The start of the 21st Century brought extraordinary advances to our industry, from innovative connected games to disruptive new platforms and devices. The last decade laid the foundation for all that is to come and everything our imaginations cannot yet fathom. A new era of interactive entertainment is just beginning, and we are excited to explore it with our passionate team of developers and with fellow gamers around the world.
31st UNION STUDIO VALUES
In addition to unveiling our new branding in February, we also announced the core values that define our studio culture and approach to game development.
We are an inspired and diverse team of creators who strive to impact the entertainment world through passion and imagination. Our rallying cry is to bring fun, inspiration and awe to our lives and to our community.
Our Values:
Thrive on Trust: We are inspired to do our best work because we are safe to take risks in an environment built on sincerity and respect.
Chase the Horizon: We believe the next great inspiration is just over the next peak; we push ourselves and each other to find it. We are all active in bringing innovation to life.
Welcome All: Our strength is in our collective experiences and we stand proudly for representation and inclusion.
Live Your Dreams: We are driven with a passion to reach our fullest potential. Personal growth is an enduring priority for all of us.
Cut Diamonds: We don't polish stones. We deliver brilliance. This devotion shines through in ways that raise the bar for all of us, and the experiences we bring to players everywhere.
DEVELOPER PROFILE – CJ BURBAGE
We are happy to introduce you to our newest animator, CJ Burbage. CJ comes to us from the film industry in pursuit of his ultimate dream in life: to make the next great video game. Welcome CJ!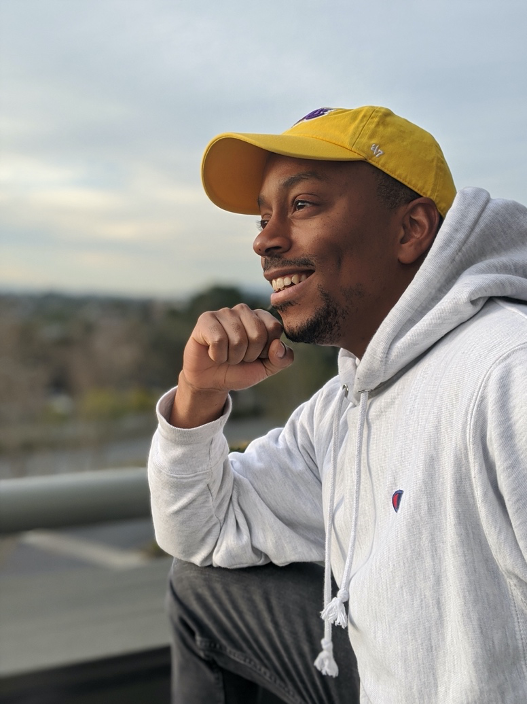 What inspired you to go into video game development?
Some of my earliest memories are of playing games with my cousins when I was a kid, so video games have always been a part of my life. When I was first looking to get into the animation industry, film gave me my first opportunity. Even after working in film for a few years, the urge to work in game development was always in the back of my mind. Eventually the stars aligned and I was able to join our studio. I haven't looked back!
What surprised you about video game development?
One of the biggest takeaways for me was the amount of animation I was able to do here. Coming from the film industry, I expected to learn a bunch of code and sacrifice a bit of creativity on the animation side. That wasn't the case. Our animation team has taken the time to develop our own animation style, and every day we determine new ways to push the boundaries. We do not let game restrictions limit our imagination.
How have video games influenced your life?
Games allowed me to connect with people from all different backgrounds, and that in of itself is a learning experience. Early on games gave me a sense of accomplishment and comradery with my friends as we would take on challenges together.
What is your hope for the future of the video games or the industry?
Personally, I'm a big fan of story driven, single player experiences. There's a ton of stories to be told out there. I would love to continue to see story driven games in the new games of the future.
What is unique about 31st Union as far as the industry goes?
I can say the talent level here is off the charts. One of the best things about 31st Union is that everyone truly has a voice. Anyone can pitch an idea or a mechanic, and you are heard. It's the most collaborative environment I've ever been a part of, which makes me excited coming to work every day.
How could the video game industry create a more inclusive environment for developers?
Obviously having a diverse workplace with different races, nationalities, and genders is a great start, but it has to go further than that. Communication is key, and it's important that everyone feels comfortable to express any ideas or bring up any issues. A workplace that values the employees and their lives not only at work, but also at home, is also something our industry needs more of.
And for players?
I think representation is very important when it come to this. People from all different walks of life play games, and I feel when there are characters and stories being told that people can relate to, they will walk away having a stronger connection with those games. But it shouldn't be as simple as meeting some quota for inclusion. The stories need to be genuine and authentic so people are able to relate.
What is your favorite video game? What do you love about it?
My favorite videogame to date would have to be "The Last of Us". I have never played a game before that had as much of an emotional impact on me. I became fully engulfed in the world and characters. It's visceral and gritty, but has a lot of heart, and that's what pulled me in. It's the first game that made me cry, and if you've seen the opening sequence then you know why. I'm super excited for the sequel!
Tell us something about yourself that many people do not know about you.
In my off time from work I like to keep as busy as I can, which has turned me into a bit of a hobbyist. I love fashion, and I like to play guitar, or I throw on some boxing gloves and have a sparring session.
We are HIRING for 2020!
We are seeking passionate and talented collaborators to join CJ and our team to start this next decade together. If you'd like to hear more about our studio, the team, and this rare opportunity to help shape our culture and projects from the beginning, please connect with us at https://www.linkedin.com/company/31st-union-official
Learn about working at 31st Union. Join LinkedIn today for free. See who you know at 31st Union, leverage your professional network, and get hired.

www.linkedin.com
Happy New Decade everyone!